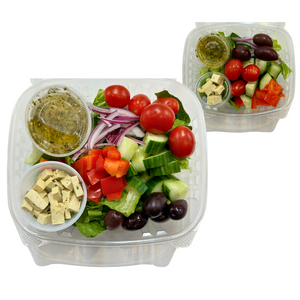 Ingredients: Romaine lettuce, cucumbers, tomatoes, bell pepper, Kalamata olives, maple syrup, olive oil, lemon, red onion, garlic, sea salt, herbs, and spices.
Your Salad, Your Way
Side Salad: Add a smaller salad to go alongside your main dish, bringing a fresh touch to your meal.

Regular-Sized Salad: Choose a bigger salad with the option to turn it into a complete and satisfying meal.

Make it a Meal: Get a regular-sized salad with the addition of Roasted Sweet Potato, Quinoa, and 

Chickpeas
Note: We can not customize for food sensitivities or any allergies.
*We strive to deliver the best quality meals at all times. Please note that vegetables or ingredients may change without further notice depending on freshness and availability. 
**Pictures shown are for illustration purposes only. Actual products may vary in presentation.