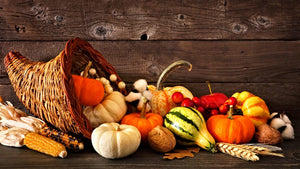 Gluten-Free Thanksgiving Feast You Will Feel Good About
Order by: Thursday, October 5
DELIVERY DATE: Saturday, October 7
Herbed Lentil Loaf w/ Caramelized Onion

Cremini Mushroom Gravy

Gluten-Free Sage Pear and Walnut Stuffing

Cranberry Rice with Caramelized Onions

Green Bean Casserole
Please choose between meal for 2 or meal for 5.
Note: We can not customize for food sensitivities or any allergies.
Please place your order for the thanksgiving meal separately or a separate delivery fee invoice will be emailed.
*We strive to deliver the best quality meals at all times. Please note that vegetables or ingredients may change without further notice depending on freshness and availability. 
**Pictures shown are for illustration purposes only. Actual products may vary in presentation.