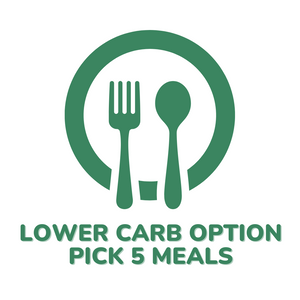 Note: Please only pick a total of 5 dishes from the above choices.
Lower Carb Option: 

These plant-based vegan meals will be exactly like our regular meal plans without rice, rice noodles, brown rice pasta, and Yukon potatoes. 
You will instead get more complex carbohydrates such as sweet potatoes, squash, mung bean noodles, legumes, beans, and other vegetables that are available in the market.
Add-Ons (optional):
Your choice of:
Asian Salad with Ginger Sesame Dressing

Summer Rocket Salad with Maple Tahini Mustard Dressing

Village Greek Salad

House Chopped Salad

Garlicky Caesar Salad
Add 5 breakfasts (

+$36.25

)
(selection may change based on availability)
Your choice of:
Spanish Style Tortilla
GF Chia Pudding (fruits and seeds)
Cajun Tofu and Yukon Potato Hash
GF Coconut Oatmeal Porridge
Blueberry Chia Pudding
Strawberry Chia Pudding
Banana Pancake
We do not allow substitution at this time.
We may customize ingredients to remove nightshades or tofu except for any food sensitivities or allergies-related reasons. If you require further customization, please call or email us before placing your order.
Note: We can not customize for food sensitivities or any allergies.
*We strive to deliver the best quality meals at all times. Please note that vegetables or ingredients may change without further notice depending on freshness and availability.
**Pictures shown are for illustration purposes only. Actual products may vary in presentation.